Google has announced a major update to their ranking algorithm will roll out today.
And in the SEO world it's called #MOBILEGEDDON. This new algorithm will now take into account whether a site is "mobile-friendly" when considering how a page ranks in SERP. Google's own Zineb Ait Bahajji from the Webmaster Trends team said this update will have "more of an impact on Google's search results than the Google Panda update and the Google Penguin update did." This is huge news, especially if your website isn't mobile-friendly!
Only Searches on Mobile Devices Will be Affected
In other words, you won't see a difference in your site's rankings on desktop computers or laptops as a result of this update. However, according to Smart Insights, 80% of Internet users search using their smartphones – and 48% of these searches start on search engines. If your site isn't mobile-responsive, you'll be missing out on a huge opportunity to market to millennials who typically search on multiple devices across multiple user sessions.
It's Either Mobile-Friendly…or It's Not.
Seriously. If you have to "pinch and scale" to view the content on your website on a smartphone, it's not mobile-friendly. If your site is built to a "fixed width" then it's not mobile-friendly. But if you want to be sure, you can use Google Webmasters' Mobile-Friendly Test to see if Google views your site as mobile-friendly. This is what you want to see: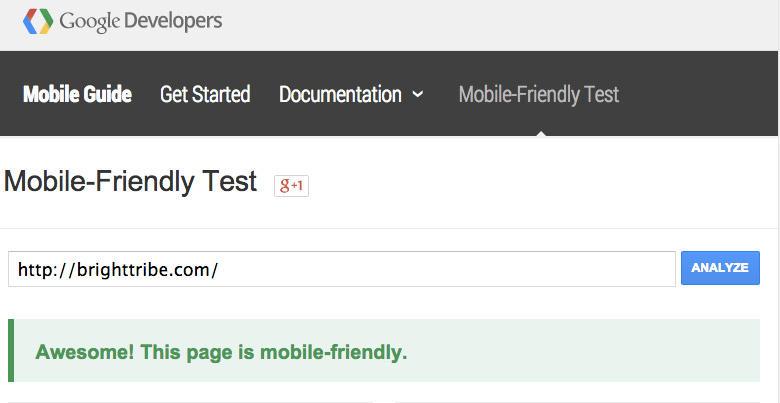 Additionally, if your site is mobile responsive, then it should have a gray "Mobile-friendly" badge on the search results page – and not be affected.
It Will Take a Few Days to Roll Out
Google's own Algorithm Q&A says, "we are expecting it [the mobile-friendly algorithm] to roll out on April 21st. We don't have a set time period because it is going to take a couple of days to roll out, maybe even a week or so."
What Can You Do?
Remember, this update is not about Google "penalizing sites;" it's about delivering the best experience to its users across all devices. If your website is not mobile-friendly – and it's important for you to reach mobile users – you can still get ahead of this update. Most of the time it's faster and less expensive to build a visually compelling, mobile-responsive WordPress website than to try to retrofit an older website. And by developing your site in WordPress with Bright Tribe, you're not only getting a mobile-friendly site, but one that's built with SEO best-practices to help your site achieve top rankings and look great when viewed on smartphones and tablets.
Finally, if your site is not mobile-friendly and your are negatively affected by the update, as soon as your new, mobile-responsive site is live, Google will recognize the change, and your site will again show up in search engine results pages. However, it may take time to regain your rankings – so act now!
If you'd like to talk to someone about your site feel free to contact us today!