We're convinced there's no better city in the world than Atlanta. We hope you agree.
You've no doubt heard of the Fortune 500 & 1000, but would you be surprised to learn that twenty-six Fortune 1000, including 16 Fortune 500, companies are headquartered in Atlanta? These companies generated upwards of $415 billion dollars in revenue in 2018. Among these companies, the largest is The Home Depot which generated nearly $110 million dollars. Other companies that make their home in Atlanta include United Parcel Service (UPS), Delta Airlines, no doubt because of Hartsfield-Jackson Airport, The Coca-Cola Company, The Southern Company, SunTrust Bank, and several other well-known brands. The complete list can be found on the Metro Atlanta Chamber website. Atlanta is also home to some of the fastest growing companies in the US, just behind Chicago and New York.

Why do business in Atlanta?
The answer is multifaceted. From the lower regulations, affordable cost of living, availability of skilled workers, a world-class airport, tax incentives and fast-growing local economy, Atlanta is a magnet for both start-ups and established businesses, and Metro Atlanta continues to attract technology companies who need strong talent. The Atlanta Tech Village is part of this ecosystem for technology companies that brings together start-ups, technology companies, investors and innovators under one roof. In fact, over 300 start-up companies have come through the Village with over $600 million raised in capital to support their innovations. That's powerful, and it's one of the reasons why Bright Tribe founder, Brian Dempsey, chooses to provide web design, SEO and marketing services in Atlanta.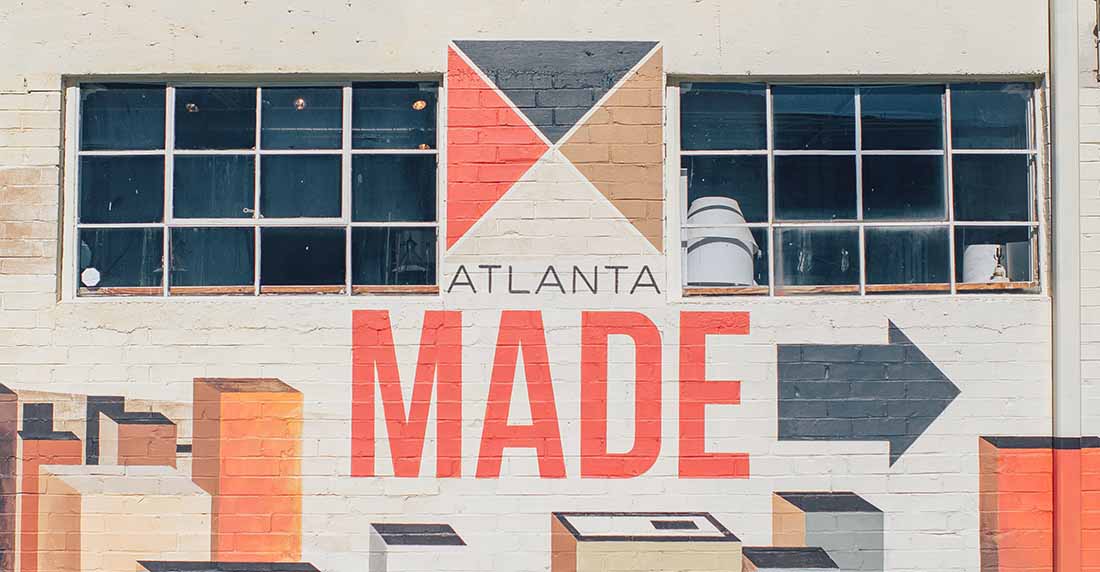 These are the reasons that Bright Tribe, one of Atlanta's top web design and digital marketing companies, chose to locate and work here. As Dempsey said, "We love Atlanta. The ever-growing number and diversity of businesses and amazing talent pool has enabled us to serve this city for 14 years." All in all, Dempsey has over 24 years of experience in web design, SEO and all facets of digital marketing services. He sat on the board of AIGA in Atlanta and has spoken on topics such as design best practices, WordPress and SEO, and most recently on the importance of Google My Business for local Atlanta businesses. Bright Tribe has served Atlanta business from elective medical to manufacturing to small mom-n-pop start-ups and everything in between.
Atlanta has a Rich History
Atlanta was founded in 1837, but it wasn't the capital of Georgia at that time. In the beginning there was "one tavern, a blacksmith shop, a grocery store, and nothing else," wrote Stephen Long. But the railroads changed all that. White settlers began pouring into the area after two Native American groups who formally occupied the land, the Creeks and the Cherokees, were forced to leave on the Trail of Tears, it began to grow – and grow it did! During the Civil War, much of Atlanta was destroyed and left in fiery ruin. However, after the war, the Third Military District which oversaw Georgia, Alabama and Florida made Atlanta their headquarters, essentially ensuring its reconstruction and importance. Atlanta was named the capital in 1868.
Also, after the Civil War the American Missionary Association founded Atlanta University to educate former slaves, and within a few decades several other colleges were established including Oglethorpe (1870), Morehouse College (1879), Spelman College (1881), Agnes Scott (1889), Georgia State (1913) and Emory University (1915). In 1888 the Georgia School of Technology was founded. Today, however, there are 57 colleges and universities in the Metro Atlanta area according to the Atlanta Regional Council for Higher Education.
One of the most important and notable figures in Atlanta's history is undoubtedly the legacy of Civil Rights leader, Martin Luther King, Jr., who was born in Atlanta. And after his death, more than 150,000 people, both with and black, walked behind the procession in a peaceful and respectful manner. The legacy and influence of Dr. King is kept alive at The King Center in Atlanta.
Those who live in Atlanta cannot forget the 1996 Summer Olympics that was hosted in Atlanta. The city and surrounding venues hosted millions of people during this time which demonstrated to the world that Atlanta was indeed a global city with much to offer. In 2007, just 10 years later, Atlanta crossed the 5 million mark and never looked back.
Not only is Atlanta a great place to do business, it's a fun place to live.
Whether you're looking for family-friendly attractions, museums, history, adventure, great dining or unique experiences, Atlanta is the place to do it. That's one of the reasons Bright Tribe chooses to work – and play – in Atlanta. As the team at Bright Tribe expressed it, "There are so many amazing things to see and do here, there's no reason to go anywhere else."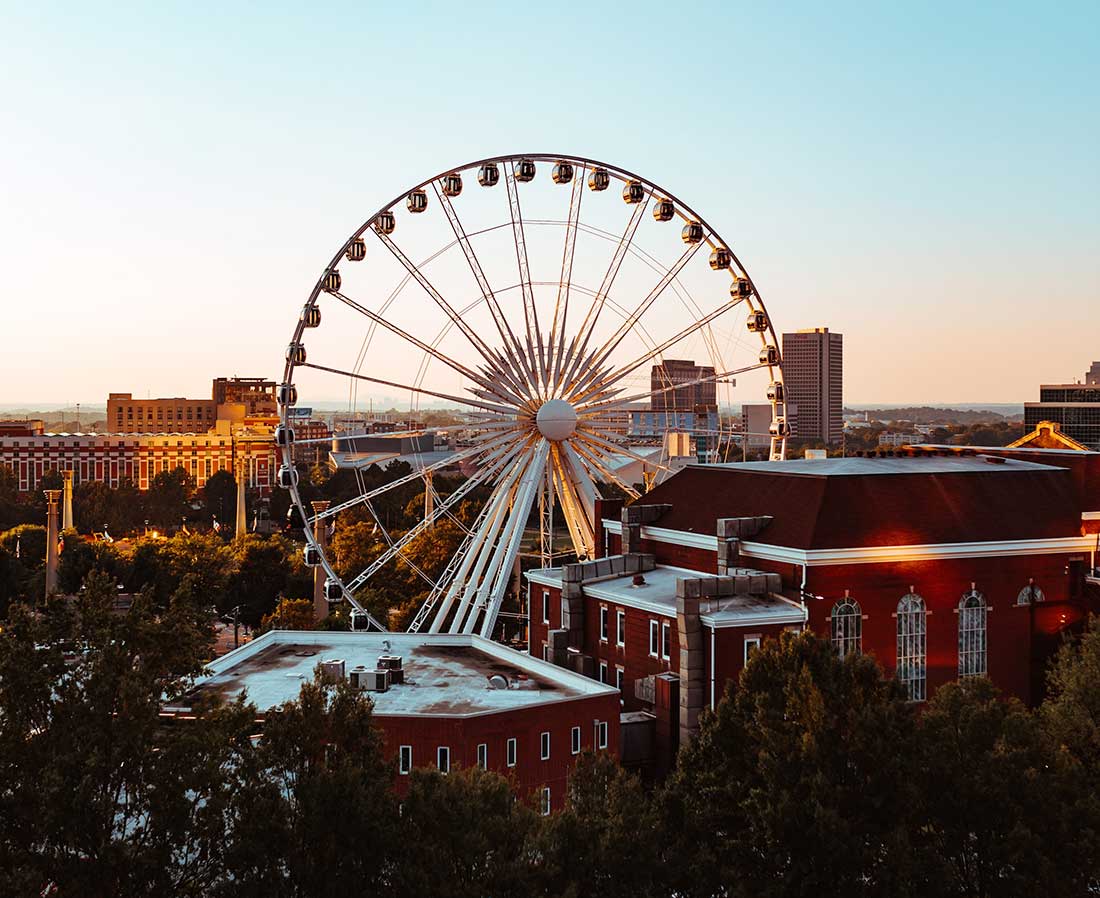 So, what are some of their favorite things to do in Atlanta? If you like the outdoors, you can explore the Atlanta BeltLine or visit the Atlanta Botanical Gardens or Centennial Olympic Park. For a full day of fun families enjoy Stone Mountain Park or Six Flags Over Georgia. If you're more into art and culture, you'll find a lot going on in Atlanta. You can check out the Alliance Theatre or the historic Fox Theater. Museums and historical sites abound in Atlanta. One of Dempsey's favorites is the Atlanta History Center, a 33-acre attraction that features a cyclorama exhibit, the historic Swan House. And no mention of Atlanta would be complete without recognizing Gone with the Wind and the Margaret Mitchel House in midtown. Downtown you can visit The World of Coca-Cola, one of the most popular tourist attractions in the city, the High Museum of Art and the Georgia Aquarium for a full day of fun.
As you can see, Atlanta is one of the best cities in the world to both and play. Bright Tribe is proud to be here and loves serving such a diverse, growing, and fun city.