WordPress is to websites what Apple is to mobile devices, tablets and laptops—it's the cream of the crop and one of the most popular website CMS platforms around.
Here are a few ways to maximize its functionality to build a top notch WordPress business website.
1. Make Your WordPress Site Secure
WordPress uses the term "hardening" when it talks about securing its websites. Some good ways to harden your website (increase its security) are to limit the number of entry points available for login on your site, choose themes from trusted sources, configure your system in a way that minimizes potential damage, and implementing a backup plan for your data. At Bright Tribe we do all of these things as part of our development process, so you can rest assured that your site will be well protected from security breaches and data loss.
2. Optimize Your WordPress Website
If you haven't updated your site's metadata, you're missing out on some major SEO opportunities. First, go to your general settings and make sure everything is what you want it to be. Beyond that there are several ways to optimize your website for search engines, but some good tools are the All In One SEO Pack or WordPress SEO by Yoast.
These tools help you make sure your website content, page titles and descriptions are all up to par, and that you're including relevant keywords to optimize your website's presence in search engines. All Bright Tribe websites come with initial SEO as part of the design process: we do all of the titles, descriptions, and keywords for you—so you never have to worry about missing an opportunity on Google.  But there's a lot more to effective SEO than simply Meta tags and keywords. Check out our Top 20 SEO Tips for a more comprehensive list.
3. Create Effective WordPress URLs
Your permalinks don't need to be generic, and they shouldn't be. Customizing your WordPress URLs is a great way to make your pages more accessible to both humans and search engine crawlers. To update your URLs, go to your permalink settings and make sure the links are something other than the default setting with query strings.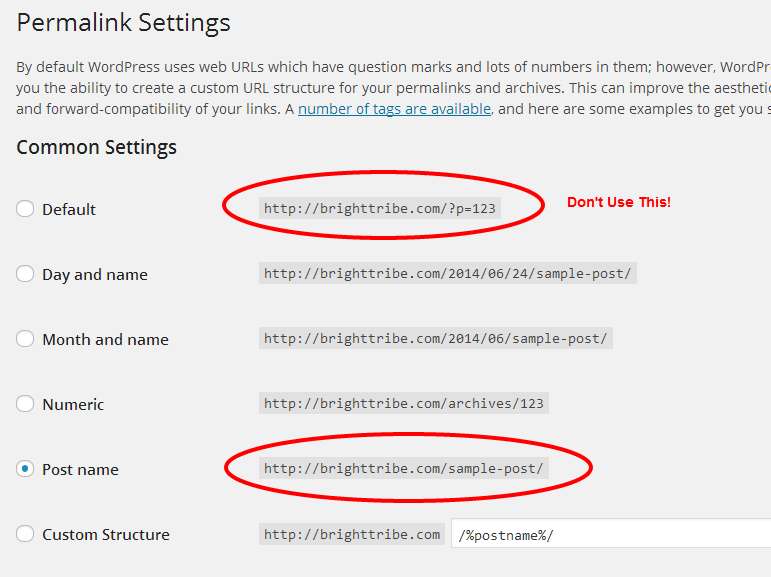 A good developer can also help you strategize your links so that future updates are a breeze and they never become outdated. Let Bright Tribe show you how we can help.
4. Block WordPress Comment Spam
Spammers are always on the lookout for website pages that have comments enabled. So if you have any of these pages on your site, you are almost guaranteed to receive spam. You can configure your settings to create notifications that help intersect spam before it becomes visible, but if you have a large scale business you'll need to implement a more efficient solution. Bright Tribe can install functionality that will automatically monitor comments to check for spam and help cut down on unnecessary notifications. It's a great way to keep control of your image without being a slave to comment moderation.
5. Link Your WordPress Site to Social Media
There are a number of plugins available to easily link your new website to every social media site on the planet. And for today's companies, social connectivity is an essential element of a thriving business. If you don't want to mess with linking up your website, let Bright Tribe do it for you. We understand the importance of a social media presence and we enable all of our websites to easily connect to Facebook, Twitter, LinkedIn, Pinterest, Google+, and any other social media site you might have a presence on.